We wish to advise Prolab's service arrangements for the forthcoming Christmas – New Year period. The cut off time for orders to be despatched Ex Press by Tuesday 19th December 2017 are as Follows:-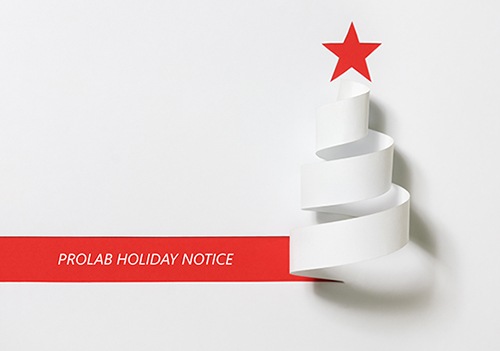 FILM PROCESSING AND SCANNING
Orders to be received by the morning of Friday 8th December.
ALL PRINTING AND FINISHING
Orders to be received by 8am on Monday 18th December Which Require freight
COUNTER ORDERS FOR PRINTING, ALUPANEL, ACRYLIC FRAMING, FINE ART AND CANVASES FOR COLLECTION
Please request by 18th.
PHOTOGRAPHIC PRINTING REQUESTS WITH LAB COLLECTION
Can be requested by 12midday 21st
The laboratory will be closed from Friday, 22nd December @ 4.30pm and will re- open on Tuesday 9th January 2018 @ 8.30am.
Please note during the holiday month of January the laboratory operates with reduced staff members and during this month we also conduct general maintenance. Service times may be affected during this period.
If an inconvenience is caused by this closure, please contact us on (07) 38449621 or Contact Us by email.
You can Email Us: Email Us
Find us on Instagram. Prolab Instagram Page
Find us on Facebook. Prolab Facebook Page
Phone - (07) 3844 9621