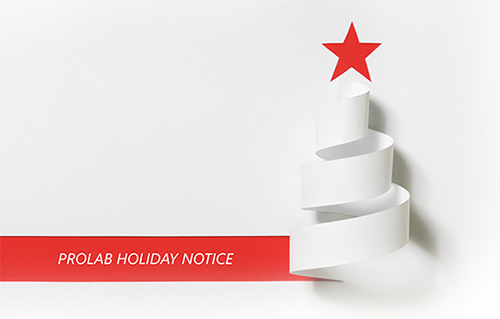 HOLIDAY SEASON SERVICE DATES
As a service guide, we wish to advise Prolab's receiving dates for orders to be dispatched before the forthcoming Christmas – New Year period. If any inconvenience is caused by the Lab closure or these cut-off dates please contact us and workloads permitting we will endeavor to meet your requirements. Prolab will be closed from Friday 20th December at 4.30pm and will re-open on Tuesday 7th January 2020 at 8.30am. Please Note our online ordering system R.O.E.S will still be operating. For orders to be collected or freighted on or before Friday 20th December - please note the order receiving dates below.
FILM PROCESSING- SCANNING-PRINTING
Orders received by the morning of Monday 9th December.
Please keep in mind if your film processing request requires scanning, or is to be dispatched via freight, than we would advise factoring this into the timeframe mentioned above.
FINE ART AND PHOTOGRAPHIC PRINTING ONLY
Orders received by the morning of Wednesday 18th December.
CANVAS AND PRINTS WITH FRAMING, MOUNTING OR ACRYLICS
Orders received by the morning of Wednesday 11th December.
UV- PRINTING DIRECTLY TO ACRYLIC, METAL
Orders received by the morning of Wednesday 11th December
Please note during the holiday month of January the laboratory operates with reduced staff members and during this month we also conduct general maintenance. Service times may be affected during this period.
If an inconvenience is caused by this closure, please contact us on (07) 38449621 or email us.
Quality provider of Photographic and Digital Imaging Services Est 1976
Regardless of your imaging and display needs, you will find that Prolab can offer a professional, businesslike service and a range of products that provide you with quality, cost effective solutions.
Every link on our site will provide you with descriptions, prices and images to make it easier for you find an answer to your question.
'Onsite and Online' emphasises our extensive in-house production capabilities combined with a simple, on line Remote Order Entry System (ROES).
So if it's a custom, hand finished job that's required or a fully automated and streamlined upload, print and send service, Prolab can deliver.
And if you need direct contact, click on any of our easy find links for a quick response or call to speak to one of our people. We can help.
Price Lists
Lab Technician Support
Self-Manage and Save
ROES Printing